Popular-level writings for a general audience. See here for my scholarly work.
---
Book Chapters
---
"Are We Really Sure They're Wrong?" in B. Krajewski and J. Heter (eds), The Man in the High Castle and Philosophy (Open Court: 2017)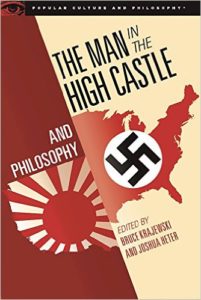 Using the universe of The Man in the High Castle as a philosophical backdrop, my contribution focuses on moral relativism, objectivism, the conditions for a just war, and the right to resist unjust governments.
---
Op-Eds
---
"7 Arguments For Legalizing Marijuana That No One Should Believe" The Federalist (3/7/2019)
There may be good reasons to legalize marijuana. But if there are, the following arguments shouldn't be considered to be among them.
---
"The Moral Case for Corporal Punishment" What's Wrong? (11/16/2018)
Opponents of spanking rest their arguments on the implicit assumption that punishment is justified by its effects in improving life outcomes. This assumption, however, can and should be challenged.
---
"Don't Legalize It" Arc Digital (11/4/2018)
Why libertarians should support marijuana prohibition
---
"Natural Rights, Self-Defense, and the Right to Own Firearms" Public Discourse (10/31/2018)
We have a moral right to own guns
---
"The Moral Problem with Most Gun-Free Zones" Foundation for Economic Education (8/22/2018)
By taking away our means of self-defense and refusing to provide a suitable substitute, gun-free zones violate our right to life.
---
"Thinking Clearly About Immigration" Public Discourse (7/24/2018)
All human beings share certain universal human rights. But I am not just a human. I am also an American, a Kansan, a university instructor, and a member of a church body. Each one of these relationships generates specific goods, rights, and responsibilities that are unique to me. The same is true for nation-states, each of which have a distinct culture and unique responsibilities to its own citizens.
---
"No One Has a 'Right' to Immigrate Into the United States" The Federalist (7/24/2018)
This is tantamount to saying that individuals have the right to use and occupy someone else's property against his will. This is a wholesale denial of property and sovereignty rights.
---
"Gun Rights and Utilitarianism" Arc Digital (4/27/2018)
Gun rights don't depend on cost-benefit analyses.
---
"Why Americans Have A Right To Own Guns Even If That Makes Us Less Safe" The Federalist (2/27/2018)
Our rights aren't contingent on a cost-benefit analysis. Whether guns are risky isn't the point, but whether guns are a reasonable means of self-defense.
---
"The Libertarian Case for Drug Prohibition" Public Discourse (1/28/2018)
Freedom isn't just the bare ability to do something; it is the ability to act under the influence of properly functioning cognitive faculties. If you value freedom, then you should oppose the legalization of recreational drugs.
---
"Yes, abortion is a human rights violation" Eagle News (2/17/2017)
In which I argue that abortion is a human rights violation.
---
"The Moral Case for Campus Carry" Eagle News (10/9/2015)
In which I argue for concealed carry on college campuses.
---
"The Limits of Consent" Public Discourse (9/23/2015)
Consent only has value when it is used to make decisions based on knowledge of what is truly good for us as human beings.