Popular-level writings for a general audience. See here for my scholarly work.
---
Book Chapters
---
"Are We Really Sure They're Wrong?" in B. Krajewski and J. Heter (eds), The Man in the High Castle and Philosophy (Open Court: forthcoming, 2017)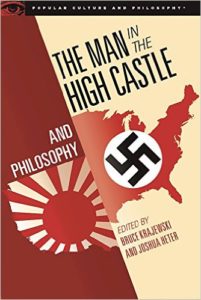 Using the universe of The Man in the High Castle as a philosophical backdrop, my contribution focuses on moral relativism, objectivism, the conditions for a just war, and the right to resist unjust governments.
Promotional blurb for the book: "The Man in the High Castle is an Amazon TV show, based on the Philip K. Dick novel, about an "alternate present" (beginning in the 1960s) in which Germany and Japan won World War II, with the former Western US occupied by Japan, the former Eastern U.S. occupied by Nazi Germany, and a small "neutral zone" between them. A theme of the story is that in this alternative world there is eager speculation, fueled by the illicit newsreel, The Grasshopper Lies Heavy, about how the world would have been different if America had won the war."
"In The Man in the High Castle and Philosophy, twenty-two professional thinkers look at philosophical issues raised by this ongoing enterprise in "alternative history." One question is whether it really made a profound difference that the Allies won the war, and exactly what differences in everyday life we may expect to arise from an apparent historical turning point. Could it be that some dramatic historical events have only superficial consequences, while some unnoticed occurrences lead to catastrophic results?"
---
Op-Eds
---
"Yes, abortion is a human rights violation" Eagle News (2/17/2017)
In which I argue that abortion is a human rights violation.
---
"The Moral Case for Campus Carry" Eagle News (10/9/2015)
In which I argue for concealed carry on college campuses.
---
"The Limits of Consent" Public Discourse (9/23/2015)
Consent only has value when it is used to make decisions based on knowledge of what is truly good for us as human beings.